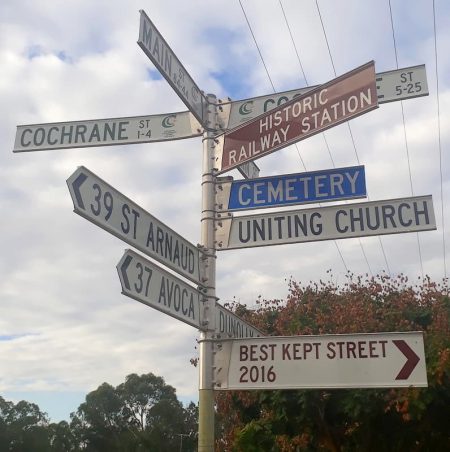 Bealiba is a small rural town with a big history steeped in gold mining, timber and farming. Located within the Golden Triangle region of Central Victoria, around 200kms north west of Melbourne.
View the historical main street with it's preserved buildings including the Post Office and General Store, Evans Pub, Library, Community Hall & War Memorial.
Visit the beautifully restored 1878 railway station, home of the famous Cooper's Capers. Have a picnic at the Orme Sowden Reserve, see the  three Historic Churches or take home a treasure from the Collectibles Shop.
Surrounded by Ironbark forests the Bealiba Reservoir offers free camping and is a fantastic spot for relaxing or fishing and ideal for bush walking and mountain biking.
Mt Bealiba has an altitude of 479 metres above sea level and gives spectacular views of the surrounding forest and farmland from the summit. Four wheel drive tracks wind their way through the forest below.
You'll love the peace and quiet and welcoming friendly locals of this unique historic town.
Check in here for details of what's happening in and around Bealiba…